I've been feeling antsy, and gulping down books in an effort to squash summery mugginess. In the past two days I've breezed through five books–the latter five on my list of seventy books read so far. Three books have stood out.
Published in 1959, its story chronicles pre-colonial life in the south-eastern part of Nigeria and the arrival of the Europeans during the late nineteenth century.
One: Things Fall Apart, a book we'd been assigned to read in high school–one that hadn't held my attention long enough for me to finish it. By section three, when the white man and his horse had arrived at the African village to convert everyone once over into Christians, I could understand why we had been assigned it. It mirrored Conrad's Heart of Darkness, but with a far more sympathetic and grounded portrayal of the fictitious African society.
By section three, all I could hear in my head was: White Man's Burden. White Man's Burden. White Man's Burden. I kept naively wishing that the African society in Things Fall Apart could remain as it'd been described…before the Christian converts came riding along with their horses, religion, and forceful government. But that would be to rewrite fiction! ….and to rewrite history.
Soviet Daughter provides a window into the life of a rebellious, independent woman coming of age in the USSR, and the impact of her story and her spirit on her American great-granddaughter.
The second: Soviet Daughter, a comic about the author's great grandmother who'd grown up impoverished amid World War II. The great grandmother had been fiercely independent, the eldest of seven children, a typist, a nurse, and a survivor of the purges. The author occasionally interspersed sections with her own story identifying with her great grandmother, who, like her, was open-minded, political, and embraced the arts.
The book echoed of MAUS, a book about the author's father's experiences in the Holocaust. It was a comic that catapulted itself into the ranks of visual literature. I'm guessing MAUS inspired a whole slew of historical biographical comics, such as the one on the atomic bomb in Japan, and then this girl's great grandmother's experiences in the USSR. Oh! The sociopolitical fumes of World War II linger….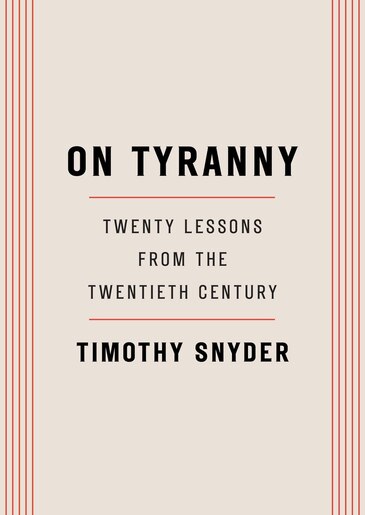 The Founding Fathers tried to protect us from the threat they knew, the tyranny that overcame ancient democracy. Today, our political order faces new threats, not unlike the totalitarianism of the twentieth century.
Which brings me to the third book: On Tyranny. It not-so-subtly hinted at the pre-fascist-like tendencies that American politics has recently devolved into. It offered twenty tidbits of wisdom detailing how certain American norms have become vaguely reminiscent of those in Nazi Germany and East European Communist regimes during WWII. Its lessons were sound: investigate, beware the one-party state, be wary of the tendency to comply–as a citizen, as a professional. Why? Because institutions have risen and fallen and lied and slain and led people astray in a similar fashion.
Yet the irony lies in the fact that Americans who might benefit from reading this book, in heeding to the lessons of history, likely wouldn't read it to begin with. I doubt that the masses–specifically, the subset of the population that tosses around the word "fake news" while consistently turning a blind eye to political lies–would ever pick up this book. Those who would pick up this book–people who enjoy reading about politics, thinking about politics–perhaps might be already aware of these 20 lessons, and might be politically active. Those who need to hear these 20 lessons most wouldn't even begin to listen….
Those are my 2 meta-cents as I read through it. But I may be wrong. Of the three books, I'd most highly encourage others to read the third book, On Tyranny.